Time marches on, and aging is inevitable. As you grow older, your skin will inevitably start sagging, and you'll notice an increasing number of fine lines and wrinkles running across your face. However, facial plastic surgery allows you to reverse the hands of time and restore your youthful looks. Besides reversing the signs of aging, you can also opt for surgeries to modify or enhance your facial contours, such as your nose or cheeks.
Synergy MedAesthetics is a luxurious medical center specializing in the latest facial plastic surgery techniques. Our plastic surgeons carefully discuss your goals to curate the ideal surgical plans to restore your youthful contours. We aim to address your concerns without leaving any trace of cosmetic work — the incisions will be strategically placed along the natural contours of your face, making them virtually invisible.
Facelift
Facelift, also known as a rhytidectomy, is a cosmetic surgery that aims to reverse the signs of aging on your face. This procedure involves lifting the skin, trimming excess skin tissues, removing unwanted fat tissues, and tightening the underlying muscles. After making the necessary adjustments, your skin is redraped in place. This procedure helps you achieve firm and contoured features, making you look a decade younger. Your surgeon may recommend a mini or full facelift, depending on your goals.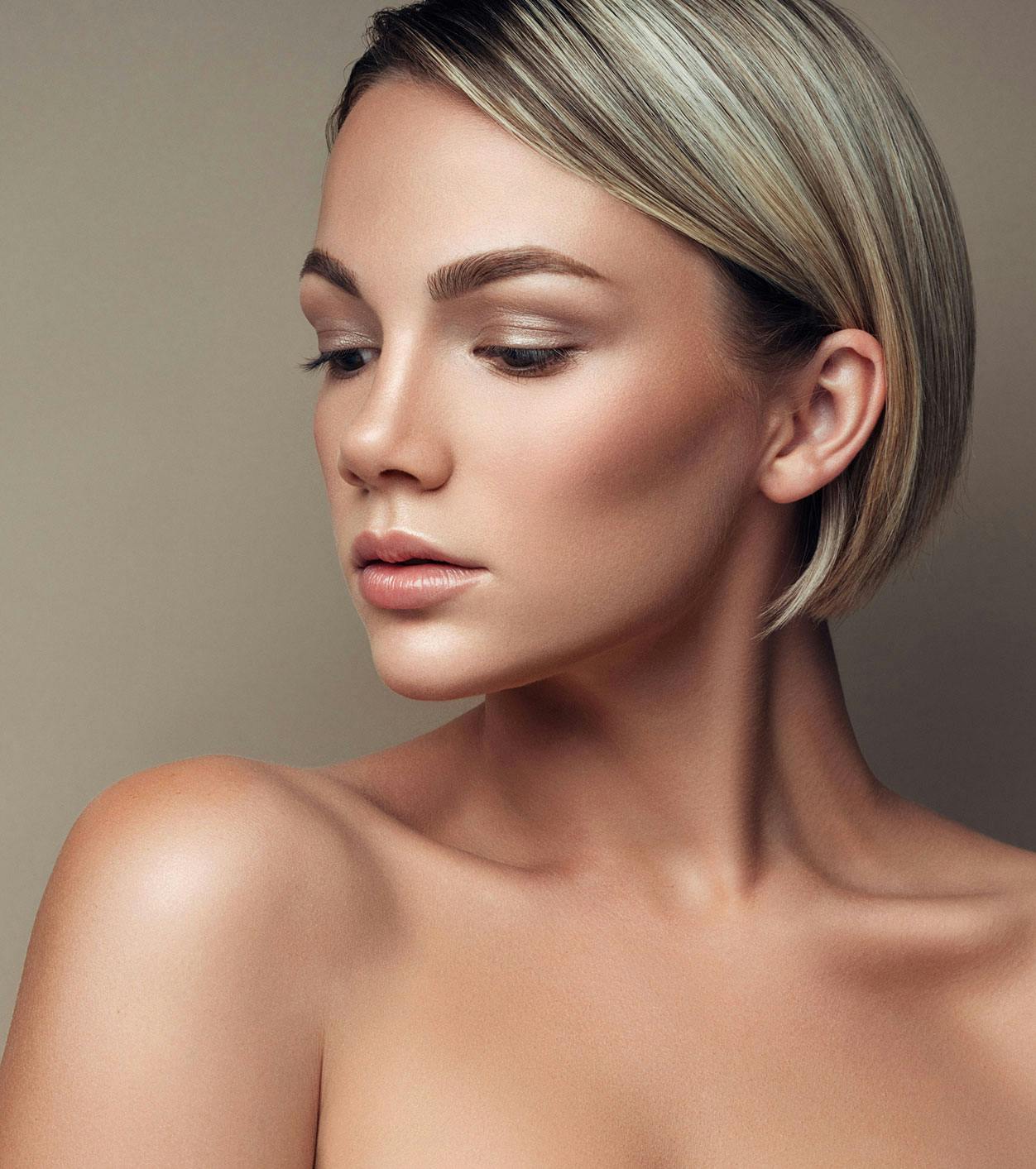 Brow Lift
A brow lift is a cosmetic surgery procedure that addresses the signs of aging from the hairline to the eyebrows. You might be a candidate for a brow lift if you have severe forehead lines, frown lines, or drooping eyelids. The surgeon makes an incision along the hairline to pull back the forehead skin, thereby tightening and smoothing the wrinkles. Depending on your specific condition, the procedure may involve repositioning the eyebrows.
Additional Options
Blepharoplasty
Blepharoplasty can be done on the lower eyelid (lower blepharoplasty), upper eyelid (upper blepharoplasty), or both (double blepharoplasty). You may need a blepharoplasty if you have wrinkles around your eyes, puffy lower eyelids, sagging upper eyelids, or drooping eyelids. The surgeon makes small incisions on the eyelids to remove excess skin and fat tissues, thereby restoring your eye's optimal appearance. This procedure makes you look significantly younger and more alert.
Rhinoplasty
A rhinoplasty, also known as a nose job, is a cosmetic procedure that reshapes the nose to help you achieve the desired contours. If you're dissatisfied with the appearance of your nose, you can have it modified with a rhinoplasty. Most patients opt for rhinoplasty to correct a deviated septum, bulbous nostrils, an extremely thin or thick nose tip, or a large Dorsal hump. The cosmetic surgeon may perform an open or closed surgery to help you achieve a straight, even, and aligned nose.
Cheek & Chin Implants
Cheek and chin implants are suitable for patients with a lack of definition on the cheeks or chin. If you have a recessed chin, you can get chin implants to enhance your jawline. You can also get cheek implants to achieve contoured cheekbones. The surgeon will insert an implant within the cheeks or chin to help you achieve a more sculpted appearance — the implant will be chosen according to your specific goals.
Lip Lift
You can opt for a lip lift to contour your lips or enhance their volume. Most patients opt for a lip lift to achieve a cupid's bow, which is done by lifting the corners of the upper lips towards the nose. Enhancing the lip volume can also help you achieve a more balanced and symmetrical appearance. Your cosmetic surgeon will recommend the ideal lip lift surgical technique based on your goals.
Neck Lift
The neck is one of the first parts of your body to display advanced signs of aging, such as neck banding, double chin, or excess folds of skin hanging from the chin (turkey wattle). During a neck lift, the surgeon removes excess skin and fat tissues and tightens the underlying platysma muscles, giving you a smoother and more contoured appearance.
Liposuction
Liposuction is a procedure wherein unwanted fat deposits are literally suctioned out of your body or face. If you have excess fat pockets on your chin, jowls, or cheeks, the surgeon can insert a small tube-like device (cannula) to suction away the unwanted fat. This helps you achieve a more chiseled and contoured look. Liposuction is one of the most effective means of removing excess fat tissues that resist other fat reduction techniques. Facial Plastic Surgery at Synergy MedAesthetics, Beverly Hills
Synergy MedAesthetics is a state-of-the-art medical center led by highly skilled and experienced plastic surgeons. Instead of following a cookie-cutter treatment plan, we personalize all facial plastic surgeries according to your unique expectations and concerns. Our considered approach to facial plastic surgery ensures naturalized results that will leave people guessing the secret of your everlasting good looks. Please schedule an appointment to explore your facial plastic surgery options in Beverly Hills.