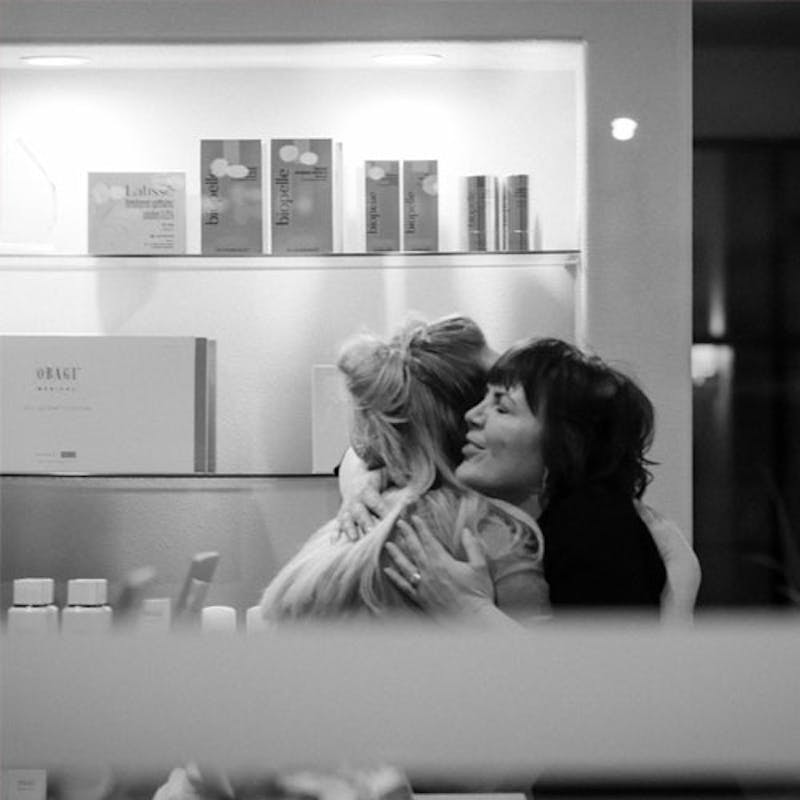 Reasons to Always Choose Synergy
We are all about YOU!
Looking through our Facebook reviews, you'll notice we have a very sweet and loyal following. Our patients refer their friends and family to us so often that we had to develop a referral reward program just to thank them! So, what makes us so special? We are a totally unique medical spa for 3 main reasons: experience, expertise, and ethics.
The Synergy Experience
Synergy was founded by someone like you, a patient! Nicole, a world-traveled business consultant, relocated to the Tri-Cities and went in search of her new hometown spa. Z Place Salon and Spa become a regular for amazing facials, massages, and waxing (which is the reason we just HAD to be right next door to them). Searching for a great medical spa was much more difficult. So, she created her own!
The things that mattered most to Nicole as a patient, became the foundation of Synergy: a genuinely friendly staff that makes you feel welcome, highly trained practitioners who stay updated on advancements and partake in continued education, and strong ethical guidelines.
The Synergy staff is here for you. We want to meet you, listen to you, and help you look and feel your best. We want to know how you feel your treatment went, and we genuinely look forward to seeing you again. Full disclosure: we have been known to loudly celebrate the news of our patients' birthdays, new jobs, homes, dogs, cats, and/or grandbabies.
This isn't a customer service strategy, it's just all we know! Our staff isn't trained on forcing unauthentic dialog; this just comes natural to us. Synergy is our fun place and we're excited to be the friend alongside you on this confidence-boosting journey.
Synergy Expertise
We don't want to worry you, but it is possible and completely legal for a medical professional to receive just one weekend (or less) of training in aesthetics injectables (like Botox and dermal fillers) and start working with paying patients the following Monday. How much training an injector or esthetician receives only depends on what the clinic owners require. Is that worrisome? Well, only if experience is something you value.
Expertise was very important to our founder, Nicole. We are incredibly proud and honest about our staff's frequent training and level of expertise. Not only is our staff licensed and certified in everything they offer, their job duties include studying the newest technologies and techniques, attending regular training and obtaining continuing education credits, traveling for the most advanced courses, and regularly meeting with staff to improve services based on patient feedback. Our new staff members come to us with experience but still receive specialized training in "the Synergy way" for several weeks prior to treating our patients. These aren't legal requirements, but they are Synergy's ethical guidelines. We want our patients to receive the same service we would, from a highly-skilled, fully prepared practitioner. That brings us to ethics.
Synergy's Ethics
Our patients come first—in our hearts and our bank. Unlike most medical spas, our incredible staff made the unanimous decision to discontinue sales compensation a very long time ago. Our staff is compensated for their time; not how much they sell. If a practitioner or staff member suggests a service or product, it is because they feel it is the best treatment to help you achieve your goals, not for direct personal benefit. While this is practically unheard of in this industry, it is the standard here at Synergy. We're able to put honesty and your safety at the top of our priorities.
In addition, we don't accept tips. That's right—you'll never be expected/allowed to leave a tip here at Synergy. If you do leave a tip after a HydraFacial or Botox treatment, your practitioner will kindly walk it right back out to you and ask that you leave us a review or refer a friend instead.
We reward our regulars! We developed a monthly membership with deep monthly, and year-round savings. We want you to have the flexibility to achieve or maintain your confidence-boosting results without pressure on your pocketbook.
Finally, we never cut corners. From our skincare to our Injectables, we only use the highest quality, name-brand products that are both FDA approved and always legally, U.S. sourced. This is a strict Synergy standard. It may sound odd to highlight this issue, but instanced of counterfeit and unverified, re-imported/foreign products are reported often in med-spas around the country. We guarantee, 100%, you will always receive the same top-quality, name-brand products you expect.
Are you ready to choose Synergy? Are you needing to schedule another treatment?
Call our friendly front desk at (509) 222-8022. You'll be greeted like an old friend, offered a beverage, then have an honest conversation with a skilled practitioner who can answer all of your questions without the sales pressure.
Here's to self-confidence,
Lorri
Operations Manager