Have you gotten a tattoo that you now regret? Don't let the art of your past affect your future. With laser tattoo removal in Kennewick, we are able to remove tattoos of all shapes, sizes, and color. At Synergy MedAesthetics, we are a premier laser tattoo removal med spa in Kennewick. We serve the entire Tri-City area.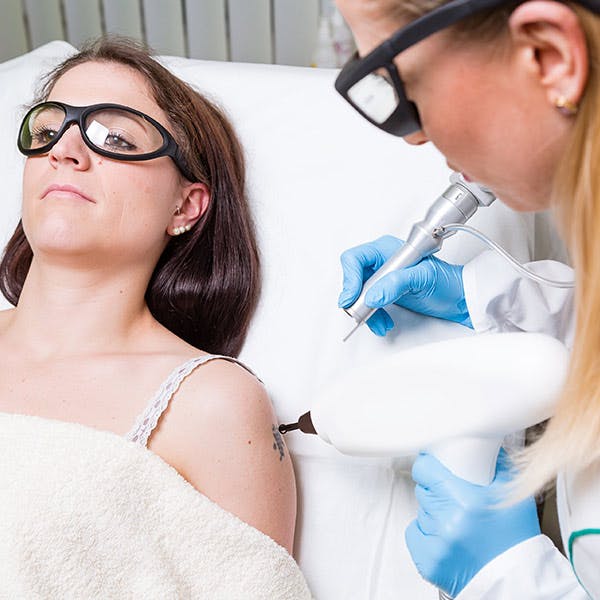 Synergy MedAesthetics Laser Tattoo Removal
Tattoos are a permanent addition to the body. While the pigments do fade, they remain forever in your skin. The only way to get rid of your tattoo completely is to undergo a laser tattoo removal treatment.
At our med spa, we use the cutting-edge Cutera Enlighten multi-wavelength laser to effectively rid you of an unwanted tattoo. The Cutera Enlighten laser uses a combination of longer and shorter pulses – 2 nanoseconds and 750/660 picoseconds respectively. The longer pulses are used to break down larger ink particles into smaller particles and the shorter pulses are used to eliminate these smaller particles.
Before & After

Cutera Enlighten can Give you Smooth and Clear Skin
The laser wavelengths are extremely strong, capable of breaking down inks & pigments of varying densities. The laser comes built with a cooling technology that protects your tissues from the intense heat of the laser and prevents dermal damage.
The Cutera Enlighten laser tattoo removal in Kennewick is extremely safe. It doesn't pose the risks that chemical abrasives and surgical grafts pose. You can get rid of unwanted tattoos in as few as 3 to 4 sessions, regaining healthy and healed skin within a matter of weeks.
How our Cutera Enlighten Laser Removal Procedure Works
Once you visit our med spa for a consultation, our specialists will evaluate your tattoo. The age, size, shape, colors, and location of your tattoo determine the treatment approach.
Depending on where the treatment area is located, you will be made to wear special glasses that protect your eyes. The Cutera Enlighten laser will be started and carefully moved on and around the tattoo. The laser beams will penetrate your skin, reach the lower layers where the pigment is located and will heat the area. This heating will break down the pigments until it is completely destroyed. The trace remnants of the pigment can now be eliminated out of the body.
Each tattoo removal session takes between 15 to 45 minutes, depending on the size of your tattoo and the number of tattoos you need to be removed. The short-long nature of the pulses ensures that your skin tissues aren't exposed to the rays for long and this keeps them safe from harm. Results After the Treatment
Your skin may be swollen, bruised and tender for a few hours. We will be applying a layer of antibiotic cream and may even bandage the area to prevent infection. You will need to change your bandages every day and apply the antibiotic cream for at least a week.
Since this is a non-invasive procedure, you can return to your normal tasks immediately post-treatment. However, you should avoid exposing the treated area to hot water, direct sunlight and abrasive cosmetics for 10 to 15 days after the procedure.
After the first session, you'll notice that the edges of the tattoo have run their color and the tattoo appears considerably blurry, compared to before the treatment. After a few more sessions, you'll find that the tattoo has completely disappeared as if it never existed. Over a period of a week or two, your skin will have healed completely and will look flawless.
Benefits of Cutera
Enlighten Technology
Extremely safe and ideal for sensitive skin.
Perfect for people of all skin colors.
Eliminates both black-and-white and colored tattoos.
In addition to this, the Cutera Enlighten laser can also treat:
Age spots, skin pigmentation, acne scars, and benign lesions.
Scarring, roughness and poor texture of the skin.
This is because the laser uses PICO Genesis technology, that provides complete skin revitalization, in addition to cosmetic pigment removal. Contact us to schedule a session.