Tired of shaving and waxing? Hate those dark roots and ingrown hairs? Do you get acne every time you wax? Want to be ready for the summer without all the shaving preparation? Do you have unwanted body hair you could do without? Save time and money, and be ready for all clothing situations. Take advantage of our laser hair removal Tri-Cities residents love.
Our brand-new Cutera Laser Hair Removal Excel HR at Synergy MedAesthetics is the latest advancement in laser hair removal in Kennewick, and it has a built-in cooling system. This means it's more effective and significantly more comfortable than other machines on the market. Contact us today to schedule a consultation with one of our experienced providers.
Eligibility Criteria for Cutera Excel HR Procedure
People who are eligible for laser hair removal treatment are:
Above the age of 18
Of any skin color
Without any existing hair or skin conditions
With dark/colored hair
Laser hair removal is only effective on pigmentation hair; we are unfortunately not able to effectively target white, graying, or blonde hair. We advise pregnant women and breastfeeding mothers to postpone the treatment after weaning the baby.
Before & After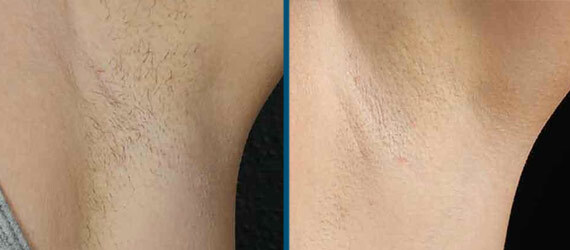 What Is the Cutera Excel HR System?
Cutera is one of the most reputed developers of laser hair removal technology. The Excel HR system uses the state-of-the-art dual-wavelength technology with an Nd:YAG laser and Alexandrite laser to provide a safe and semi-permanent hair removal solution.
The Cutera Excel HR platform combines the immense power and capabilities of the 1064 nm Nd:YAG laser and 755 nm Alexandrite laser to quickly and effectively destroy hair follicles and prevent hair growth for years.
The use of the two lasers allows us to treat people with all skin tones. While the Nd:YAG laser offers great results for people with darker skin tones, the Alexandrite laser is immensely beneficial for individuals with lighter skin tones.
The Cutera Excel HR system comes with a sapphire contact cooling technology that ensures your skin doesn't singe or burn or get irritated during the treatment. Our Kennewick laser hair removal is completely non-invasive and extremely painless, making it a comfortable hair removal experience.
Preparing for the Treatment
The Cutera Excel HR procedure starts with a consultation, where our med spa professionals will assess your hair removal needs. We also evaluate your skin type and hair type, as it will help us customize our treatments. We spend time getting to know you and understanding your cosmetic or medical needs. Our priority is to ensure your satisfaction and comfort during and after the treatment.
Once we identify the extensiveness of the treatment required, we schedule the treatment. You are asked to stop all plucking, waxing and tweezing treatments that you normally undergo for a few weeks before the treatment. This is to ensure that the hair follicle is present at the time of the treatment. You should, however, wet shave a few hours before the treatment using skin-friendly shaving gel.
You are also advised to stop tanning or sunbathing a few weeks before the treatment, as an increase in melanin can impact the quality of the hair removal results. Before and throughout the treatment you must use sunscreen of SPF 30 or higher on the treatment area. Treatment cannot be performed without proper sunscreen application! It is our mission to give you the best results from laser hair removal Tri-Cities and Kennewick can offer. During the Treatment
On the day of the treatment, the area will be cleaned using skin-safe materials. Your eyes are covered with special glasses, which protect them from the laser light.
Next, the Cutera Excel HR device will be gently moved across the treatment area. The sapphire contact cooling technology delivers a cool wave to your skin, pre-cooling it. Next, the hot laser waves are delivered to the treatment area. The heat from the laser enters the hair follicles and burns them. Soon, the hair follicle dries up and disintegrates completely. Any hair growing out of that follicle will fall off. Since the Cutera Excel HR treatment is used to destroy the hair follicle .i.e. the root of the hair, you won't experience any hair growth from the treated area for years. In fact, some patients have confirmed permanent hair removal after the Cutera Excel HR treatment.
Once the hot wave has been directed towards the treatment area, another cooling wave is delivered to your skin. This immediately cools the heated area. This constant cycle of cooling and heating ensures that your skin is safe and isn't vulnerable to burns or irritation. You won't even need to ice the area post-treatment.
The most popular areas for hair removal for men are above the beard, ears, neck, hands, chest, and back. The most popular for women are the face, upper lip, chin, neck, abdomen, bikini/Brazilian, underarms, legs, and toes. Our technicians will customize the heat and intensity of the laser treatment, depending on your skin type, sensitivity and the nature of your hair. After the session, you'll be left with smooth and hair-free skin.
Post-Treatment Results: What to Expect
Immediately after the treatment, you may see minor swelling, bruising or tenderness of the skin. This is completely normal and these symptoms will disappear after a few hours. At first, you'll see that certain portions of the treated area are completely hair-free. Over the next 2 to 3 weeks, you'll be able to see better results.
It is recommended that you undergo a total of 6 to 8 treatments* to benefit the most and get comprehensive results.
*Please note:
Significant reduction/removal takes multiple treatments completed over several months. The sooner you start; the sooner you'll see results!
Best Skincare Practices After Treatment
Dos:
Apply sunscreen (SPF 30 or higher) every day to hydrate your skin.
Drink lots of water, as it improves skin tone and texture.
Don'ts
Direct sun exposure should be avoided for at least 10 days after the treatment.
Undergo waxing, chemical depilatory, tweezing or other hair removal treatments for 2 weeks after the treatment.
Undergo tanning, bleaching or other cosmetic treatments for 2 weeks after the procedure.
Reach out to Synergy MedAesthetics for Laser Hair Removal
At Synergy MedAesthetics, the solution to unwanted hair is our Tri-Cities laser hair removal. It is available for men and women. We can treat any area! Speak to us today to schedule a session. We are based out of Kennewick, but we also welcome patients from Pasco and the neighboring cities within a 100-mile radius.
Laser Hair Removal (Available in the Tri-Cities at our Kennewick location)
Many people have questions about laser hair removal, wondering if it is right for them. As one of our most popular procedures, laser hair removal offers more than just aesthetic results-without sounding dramatic, it can be life changing! In 4-6 comfortable treatments our laser can remove the hair that has bothered you. Looking for time saving convenience or to be rid of your insecurities caused by unsightly hair? We love this procedure because we love making our patients happy! Below are examples of patients we have personally treated with our new laser. If you want to learn more please phone us for a complimentary consultation at 509-222-8022.
For women who suffer from Hirstuism (hormone imbalance which causes dark hair on the face, chin and neck) laser hair removal can transform how a woman feels about herself and completely remove the self-conscious insecurity that comes with unsightly, female facial hair.
Women everywhere realize the time, cost, pain and ongoing maintenance of waxing. Shaving seems never-ending, causing razor burn and in-grown hair. Can you imagine putting on your shorts, swimsuit, or a tank top and not having to check or even THINK about whether you are smooth!?! Really, we feel feminine, beautiful and on top of the details when hair is removed from those 'certain areas'.
Men who have excessive body hair can reduce the thickness of their hair or completely remove it in undesirable areas such as the back, neck and ears. Our patients have been very vocal about how laser hair removal changed their lives from poolside to the bedroom.
We have surgeons whom have undergone laser hair removal on their arms and hands to ensure the most sterile environment in their operating room.